We have started 2016 at The Fettling Fairies with a very busy work schedule. Fortunately, a couple of months ago Joy (The Bossy fairy) gave up the accounts job she had been doing for over 15 years to concentrate her efforts full time to The Fettling Fairies. This month Shelley (The Artistic Fairy) returned to work after giving birth to Archie in April last year - her fifth child!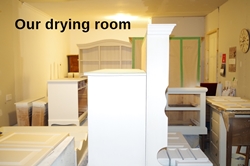 At any one time we usually have 12 to 15 items being refinished, a mixture of customer orders and our own items destined for sale. (A set of 6 chairs with a table counts as one item). We remove all doors, drawers, glass, catches, latches, hinges and the like at the start of preparation so we can get the best possible finish on each component to be painted. Our work in progress comprises many many individual bits and pieces! We like to apply no more than one coat of paint or varnish per day. While we are fortunate to have large workshops, they are too big to heat and we therefore have a drying room inside - which we can heat effectively. After items have received any necessary repairs or alterations and are prepared for painting, they spend all their time in the drying room, coming out only to be spray painted. This way of way of working helps us to keep everything scrupulously clean during painting. Planning movements in and out of the drying room have become quite complex, so in order to progress we have decided to build a second heated drying room. Work starts in a couple of weeks.
We now aim to achieve a matt paint finish on virtually all the items we refinish. As the topcoat paints we use have a satin finish (virtually the same sheen as eggshell) we apply at least one coat of water-based varnish as a final layer, using matt varnish to achieve our desired effect. We have decided it makes little sense to apply a coat of wax over the varnish since the wax 'fills' the matt effect, leaving it with a satin sheen again! Furthermore, the high quality varnish we use adds protection to the paint, so a protective wax layer is not really necessary. We are happy to wax pieces at no extra charge should a customer request this. We also offer the option for a satin varnish finish when carrying out custom orders.
Our strongest wish is that our customers are delighted - we achieve this through quality work, attention to detail and giving good service. We aim to ensure we maintain our high standards while we grow. A big thank you to all our customers, with a special mention to the increasing number who either entrust us with the refinishing of their own furniture, or ask us to source items for refinishing.